It's coming up to that time of year again which people and their pets either love or hate. Bonfire night can be such a spectacle of colour, sound, noise and also a real nostalgia trip but it can also be a night, (or more often a week) of misery for animals that have noise phobias.
It was really brought home to me when we had our second dog, Broccoli (long story, don't ask), the neighbours had organised a bonfire party in the garden with just a few fireworks guaranteed to have no loud bangs and we thought we'd been really sensible with taking Broccoli for an extra-long walk to tire him out, putting him in the living room with the curtains drawn and some of his favourite treats, turning the TV up, making sure a responsible adult was with him and even putting a notice on the living room door to warn anyone that a dog was in there and not to go in. Of course, as you've probably guessed, the inevitable happened, the responsible adult got irresponsibly (but understandably) carried away and popped out to ooh and aah at the fireworks and Broccoli must have decided to investigate too. When we discovered the living room door open and Broccoli missing, we searched the house and garden but couldn't find him anywhere. He was only a small terrier, so there were numerous places he could have hidden. We were starting to panic when I heard a chink of bottles and spied two small brown hairy feet sticking out of the wine rack. It was Broccoli… we pulled him out gently but he gave us one terrified look and dived back in again! From that night on he was scared of fireworks and sometimes thunderstorms as well.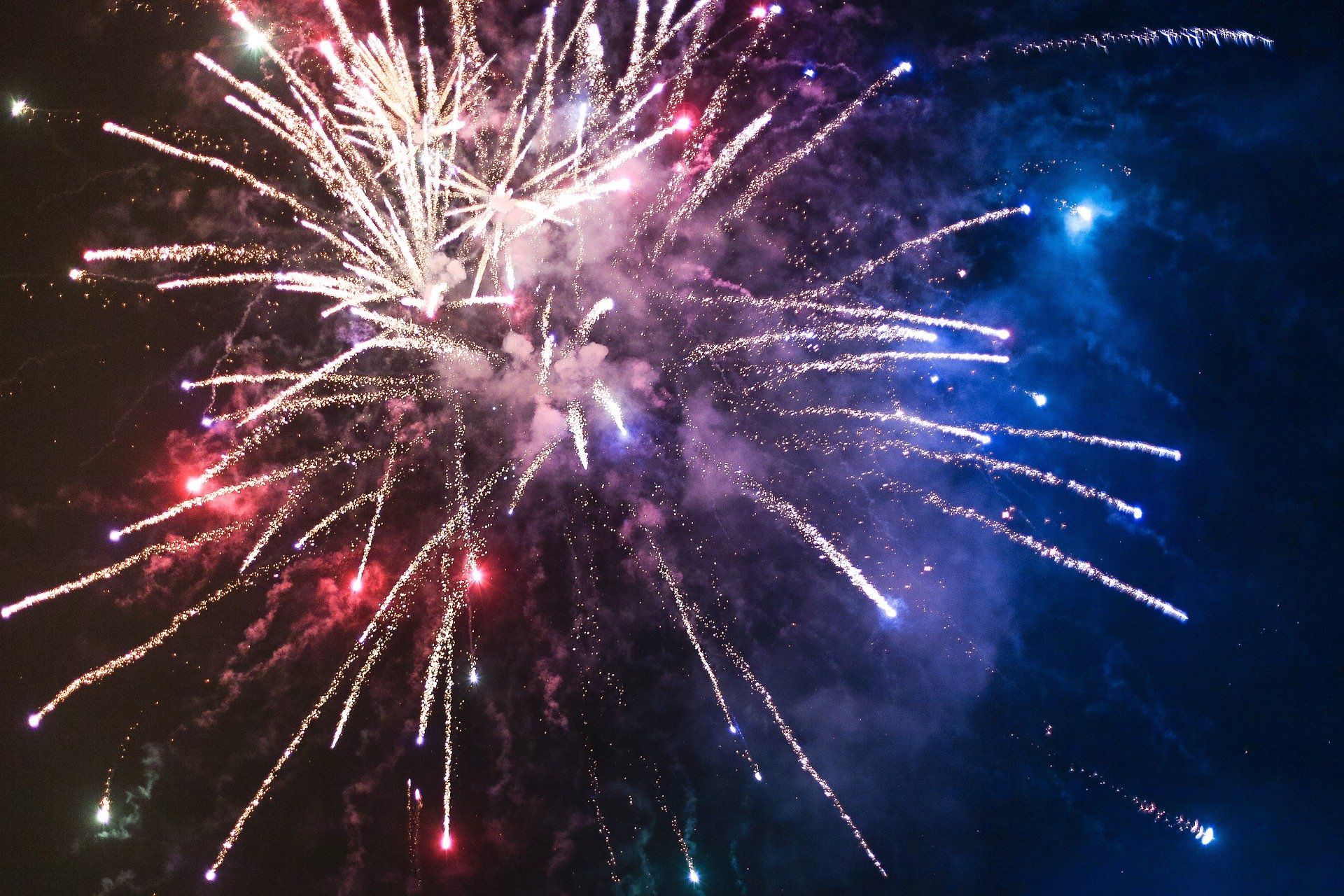 In the 2018 PDSA Animal Welfare Report, 40% of pet owners who answered the survey stated that their dog was afraid of fireworks. That's a pretty large percentage and of course cats, horses and other animals can also have noise phobias. The development of a noise phobia can be due to repeated or prolonged exposure to loud or unfamiliar noises and being unable to escape from them or perform a coping strategy like hiding, or if a noise is connected with an unpleasant event. Animals then become sensitised to the noise and react to it more severely when it's heard again or they may even come to anticipate it. Factors that influence the development of a noise phobia include; insufficient habituation early in life, being of a fearful disposition generally and genetic susceptibility. 
There are many ways of helping animals with noise phobias these days, so don't despair, however many strategies need to be started well before the anticipated event.
1. Herbs – there are many herbs that help support the nervous system and reduce stress, these are known as nervines and adaptogens. A combination of herbs can help to calm and relax animals. One of my favourite treatments is a herbal tea made of Valerian and Passiflora which can be added to an animal's food or water. There is also a product called Pet Remedy which is a valerian based combination of essential oils. It comes as a spray, wipes or a plug-in diffuser and works with the pet's own natural calming mechanisms by mimicking GABA (gamma amino butyric acid) which is a natural calming agent. 
2. Homeopathy – there are many remedies that can help reduce anxiety around noise triggers. Homeopathy of course treats the individual so it choosing a remedy will depend on the symptoms your pet displays. Friendly sensitive animals that are also scared of thunderstorms and even may even anticipate them coming, could benefit from Phosphorus. Animals that show anticipatory anxiety and inevitably get diarrhoea may need Argentum nitricum. Borax, Aconite and Gelsemium are other often indicated remedies. 
3. Physical aids – Ear defenders or calming coats or wraps like the Thunder shirt. This is a snug fitting dog coat which exerts a constant and reassuring pressure around the dog's body which may have a calming effect in some animals. 
4. Nutraceuticals – There are several supplements that have been shown to have a positive effect in helping with noise phobias e.g. Zylkene developed from a protein found in milk which acts on GABA receptors to reduce anxiety and Nutracalm a combination of Passiflora, B vitamins and amino acids including tryptophan which is a precursor of serotonin and reduces stress. 
5. Pheromone products like Adaptil or Feliway. 
6. Distraction devices – Some of these I detailed above in our preparation for Broccoli's first bonfire night such as turning the TV up a little and providing lots of treats and toys as distraction. 
7. Build your pet a den – A den is a safe place with which your pet has positive associations and it gives them somewhere to hide when they are worried. Make sure it is large enough for your pet to comfortably move around in, line it with used blankets, towels or old clothes to make it smell familiar, provide treats and toys, to enable your pet to associate it with positive things and cover it with a blanket where appropriate to muffle the sounds further. It is good to prepare the den in advance for your pet to get used to it, put it in a room where your pet usually likes to hide and where they feel comfortable. For cats, think 3D - cats often feel more comfortable up high and also provide extra litter trays. 
8. Habituation programmes – CDs are available of a variety of different noises and these can be played very softly to start and the volume turned up over a period of time to habituate pets to different noise triggers.
Another factor about which there seems to be quite a lot of conflicting advice is owner response to a pet that is noise phobic. It is important to remain calm, talk in in a low reassuring voice and distract you pet with toys and treats. If anxiety increases, obviously do not punish your pet and also don't try and restrain it by hugging as this may increase the fear response as it can't get away from the perceived danger. Moving to a different room or the den may be helpful. For many pets, contact with their owner is an important coping mechanism so a reassuring hand on their side and talking calmly is fine if this helps to reduce distress. In the long term, training and habituation would aim at making the animal more self- reliant. 
Noise phobias undoubtedly have a huge impact on the lives of many animals and their owners but as you can see there is a lot of help available through a variety of products and techniques and if all else fails, head for the wine rack!