Modern pet food production is a billion-dollar industry. The food is highly processed, ingredients are cooked together at high temperatures then extruded into kibble and lots of additives, preservatives and flavourings are added. The problems with this type of food are as follows: -
It is cooked. Cooking destroys the vast majority of the nutritional value of the food from a dog's perspective and makes it exceedingly difficult to digest. 
It can contain inappropriate and damaging chemicals (binders, colouring, preservatives and other additives). These may be absorbed through the bowel wall and transported to other organs, with a range of harmful effects. 
The quality of the ingredients is usually poor. Even expensive dog food often has low-quality ingredients. 
Most dog foods contain a high percentage of grain (including rice), which is unsuitable for the canine digestive system and causes allergies.
What is raw feeding all about? 
The theory behind raw feeding is that feeding commercial highly processed food is the equivalent of us living on ready meals and we need to look at what dogs and cats eat in the wild. What they eat is raw meat, bones and some herbage or vegetable matter. This is known as feeding a biologically appropriate diet or BARF diet, rather unfortunate acronym but one that you will encounter a lot in the raw feeding world. It is also known as the raw meaty bone diet (RMBD).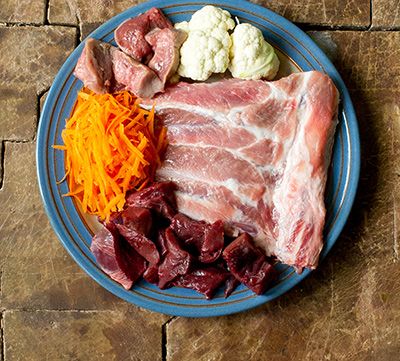 Is it OK to feed cats and dogs on raw meat and bones? 
Yes! They have limited digestive enzymes in their saliva but strong stomach acids so when they tear off chunks of raw meat and crunch up raw bones the digestive process takes place in their stomach. 
In the wild up to a third of a dog's nutrition (including calcium, magnesium, complex fats and vitamins) may come from bones. Bones keep their teeth and gums clean and exercise their upper bodies and jaw. Providing the bones are raw (cooked bones can splinter), they are safe for dogs and cats to eat. Feed bones appropriate for the age and size of the animal and supervise your pet when they first start to eat bones.
How do you start? 
There's so much conflicting advice out there, it can be difficult to know who or what to believe, I like to think of it simply as a rule of thirds: -
Feed one third meat – try to use different kinds including some offal, kidneys, liver and heart. Heart is chewy and good for cleaning teeth. 
One third meaty bone – can be mince with ground up bone and/or a proportion of raw bones with meat on them. Avoid large leg bones as dogs may gnaw off large pieces. 
One third – veg/fruit/nuts/seeds/herbs. Leafy green vegetables are best. Such as peas, spinach and kale, green beans. Grind seeds such as sunflower and pumpkin and nuts before adding them to the food. Do not feed macadamia nuts. Fruit such as blueberries are great. 
Supplements such as fish oil and kelp powder should be added regularly. 
Use different kinds of meat, and occasionally raw eggs and lentils, so a variety of protein is fed. 
If unsure seek advice from reputable companies specialising in raw feeding such as Honey's, Bella and Duke Naturavetal, Nature's Menu, Poppy's Picnic, etc. They can provide starter packs and a balanced menu to begin with. 
Feeding Guide 200-300g/10kg daily. Or other guides say 2-3% of an animal's body weight. I have known up to 5-6% though.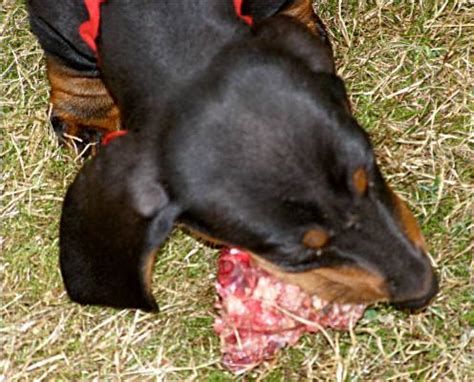 Is Raw Feeding Safe 
Yes, but you must follow strict hygiene protocols.
Store raw meat safely 
Freeze meat for 2 weeks before use to kill any bacteria such as Salmonella and Campylobacter 
Use meat from reputable source 
Thaw and serve and do not refreeze 
Wash hands, utensils and bowls immediately after use 
Only feed raw bones never cooked
This is a basic introduction to raw feeding. For more information go to the Raw Feeding Veterinary Society's website https://rfvs.info/ they have a huge amount of information including a position statement which addresses some of the questions about raw feeding and outlines the science and studies behind it.
Most animals thrive on a raw diet but there are some who do not. If your cat or dog doesn't take to raw, don't worry and most importantly don't feel you have failed. Some animals do really well on a home cooked diet and I can advise you on how to do that to make sure it is nutritionally balanced and some animals prefer kibble or owners need to feed it for other reasons. In this case cold pressed kibble is a good alternative. Cold pressed food is kibble produced at lower temperatures with minimal processing so the vitamins and minerals are preserved rather than lost to the manufacturing process. Hug Pet food is an example of a company that produces cold pressed food. They also do a raw range which can be lightly cooked as well. https://www.hugpetfood.co.uk/