Scratch That Itch!
One of the most common problems I get to treat are skin issues in cats and dogs, particularly itchy skins. Skin problems are among the most common cases seen in veterinary medicine; one survey showed that around 37% of the cases a vet sees in a day are skin related. In my experience they can be the most frustrating cases to manage for the owner, animal and the vet! 
Vets often divide skin problems into itchy and non-itchy, as the diagnosis and treatment of these two categories tends to be quite different. Non-itchy skin problems include hormonal conditions like hypothyroidism or genetic problems like Colour Dilution Alopecia and itchy skin problems include things like parasites and allergies. My particular interest is in allergies and these can be the most challenging to treat. In this article I'd like to talk about how holistic therapies can help animals with allergic skin disease. 
It may be helpful to know that the veterinary term for itchiness is pruritus. It is important to remember that pruritus is a symptom not a diagnosis. This means when your animal scratches excessively, there may be many different reasons for it. For example, if you take 3 itchy pets, they may all be scratching and getting red sore looking skin, however, one may have fleas, one may be allergic to something it's eating and one may be allergic to pollens that it is inhaling, so treatments that may have worked well for one animal may not necessarily work for yours, which is why I believe a holistic approach is so important.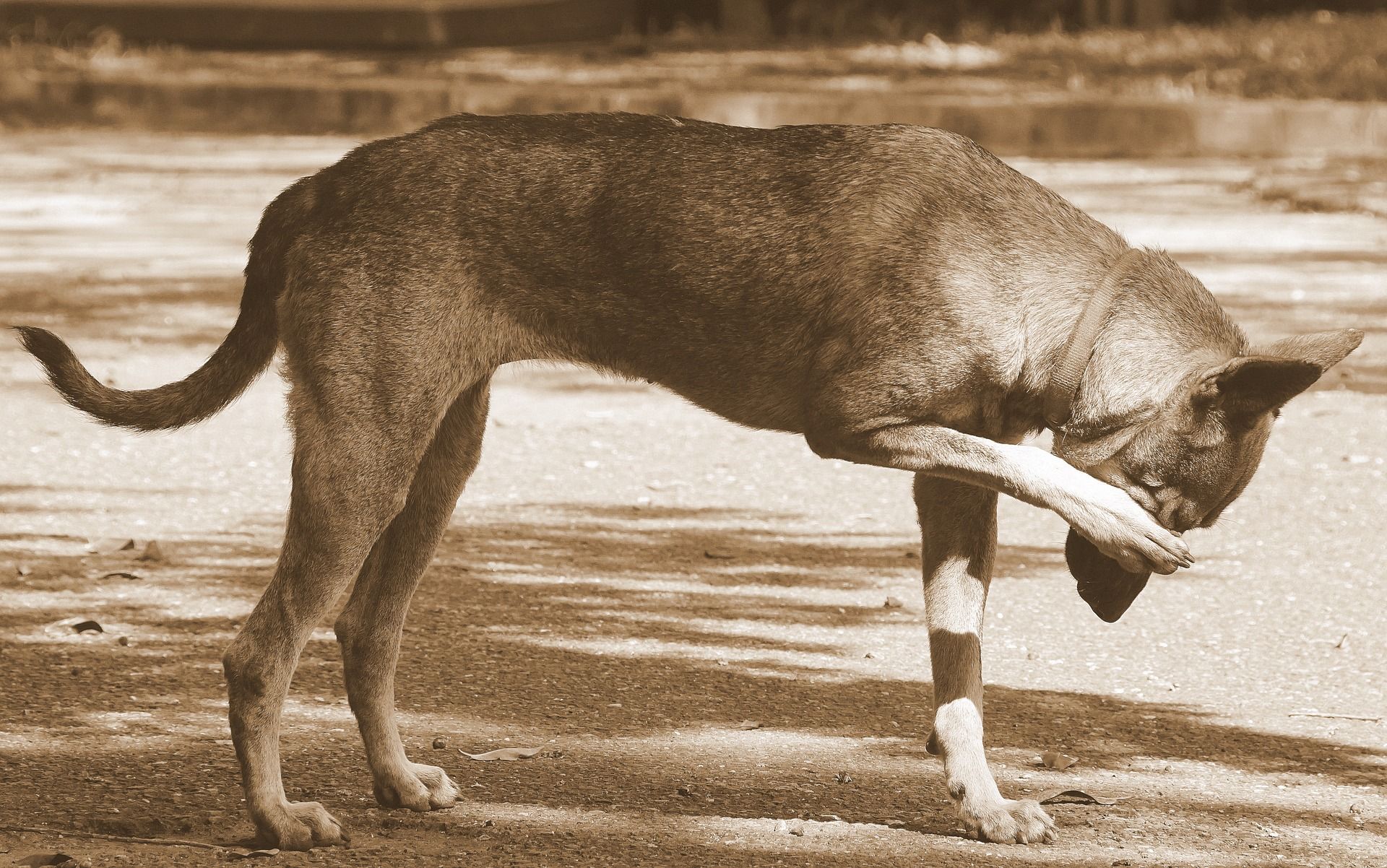 What Makes Your Pet Scratch? 
There are 2 main causes of itching in animals; - Parasites and allergies. There are some less common causes; e.g. liver problems, drug reactions and some kinds of skin cancer but these are rare. Parasites include fleas, lice, ticks and mange mites. There are several different sorts of mites: Sarcoptes, Demodex, Cheyletiella, (the rabbit fur mite) and Harvest mites. 
I can't emphasise enough, the importance of a logical approach to diagnosis of itchy skin problems. Your vet should follow a 'diagnostic pathway', this means that they should do tests to rule out the commonest things first and then gradually narrow it down to the rare or more complex ones. What is the commonest cause of scratching in cats and dogs? You've guessed it – fleas! There isn't much point in buying expensive exclusion diets or changing carpets for wooden flooring until you've checked for parasites and made sure you've eliminated them thoroughly. This would involve combing with a flea comb twice a day, vacuuming very 
frequently, use of products in the environment like essential oils and diatomaceous earth (although this should be used sparingly as may cause lung problems in sensitive animals and can also damage your vacuum cleaner!) and use of products on the animals like diluted apple cider vinegar. Other products that reportedly are useful are Billy No Mates, Dr Mercola's Flea and Tick Defence and Cedarcide spray. 
In my experience if an infestation of fleas is severe in a multi-animal household, it may be necessary to resort to conventional flea and tick treatments in the short term to resolve the problem and then you can institute a preventative programme with more natural products in the longer term.
Once you've eliminated parasites as a cause of the itchiness, you're left with allergies. Animals can be allergic to something they are eating i.e. a food allergy, something their skin is coming into contact with, i.e. a contact allergy, and something they are inhaling or absorbing through their skin, which is called Atopy. Atopy is a bit like hay fever in humans, only animals itch rather than sneeze. I'm not going to go into the diagnosis of allergies in this article as it is so complex but it really is advisable to get your animal tested for allergies once parasites have been eliminated. The most accurate test is the blood test which can be arranged 
through your vet. 
Treatment of Skin Allergies 
This can be complex as the causes of allergies are deep seated. I usually use a combination of holistic therapies as well as looking at the animal's diet and its environment. 
The aims of treatment would be to ;- 
 
1. Improve the quality of the animal's skin and coat. 
This can be done with soothing shampoos, e.g. ones containing oatmeal and aloe vera, high quality fatty acid supplements like Nutramega from Nutravet and addressing any deficiencies in the diet e.g. Zinc and copper can sometimes be deficient in raw or home cooked diets. There are also many other supplements that may be appropriate for your animal depending on its particular needs. 
2. Control the itch. 
For this I usually use a combination of herbs and homeopathy. The herbal approach (very simply) would be to look at the energetics of the animal and address any imbalances, for example is your pet generally a warm or chilly individual, is its coat dry or greasy and what are its energy levels like? Different herbs would be chosen for their warming/cooling and anti-inflammatory effects as well as helping to remove toxins from the body and support the internal organs. Herbs may be given as teas, tinctures or in the dry form. 
The homeopathic approach is always to look at the whole picture. Here are some things to consider when choosing a remedy: - 
a) Look for an aetiology – did anything happen before the skin problems started, a big one of course may be vaccination, in which case you might be looking at  remedies such as Thuja or Sulphur or the relevant nosode. Did it start after the family had a new baby or brought another pet into the house? If this is the case remedies like Staphysagria which has indignation as a keynote, or Lachesis which has jealousy as a large part of its picture may be appropriate. 
b) Family History/Breed – Some breeds are more prone to atopy than others e.g. West Highland White Terriers, Wire Haired Fox Terriers and French Bulldogs. They may need a deeper acting miasmatic remedy to start the case e.g. Psorinum or Tuberciulinum. 
c) Nature of the itch - What is the animals like when it is licking or biting itself? Animals that need Arsenicum album will often chew themselves in a violent and angry fashion and will continue to chew until they bleed or the skin is sore. 
d) Is the skin greasy, or dry and full of dandruff? Animals with dry flaky skin may need remedies like Pulsatilla or Sepia, whereas animals with moist or smelly skins may need remedies like Sulphur or Graphites. 
e) Modalities, i.e. what makes the itching better or worse. Heat is always a good one to look out for, hot animals who are always seeking a cold place to lie, may benefit from remedies like Sulphur, whereas 'chilly' animals who are always seeking out warm places, may need remedies like Calc carb or Arsenicum album. Response to bathing is also important. 
The most important thing with homeopathy however, is to always look for the total picture and this means taking into account your animal's personality as well. If you have a clingy shy animal that won't leave your side, Pulsatilla may be the remedy for it, if on the other hand you have an irritable, even angry animal that wants to be left alone, Arsenicum album or Sepia would be more appropriate. 
3. Diet 
This is so important. Allergy testing will give you some idea of specific foods to avoid and then an appropriate diet can be found. Many people favour raw diets and these can be incredibly useful for the treatment of skin problems but if you're new to raw, do get advice form the Raw Feeding Veterinary Society https://rfvs.info/ or one of the reputable raw food companies like Honeys https://honeysrealdogfood.com/ 
Some sort of exclusion diet may be required and again it is important to get advice on how to do this correctly. It's amazing how often I find owners are carefully preparing and feeding a certain diet but another family member is still feeding treats! 
4. Environment 
It is impossible to eliminate all environmental factors but certainly reducing household chemicals like carpet fresheners and scented air fresheners is a good start. If your pet is allergic to house dust mites, there are lots of measures you can take, from simply putting your animal outside when you hoover, as it throws up the dust, to replacing carpets with wooden flooring if appropriate. I have a whole advice leaflet about environmental control, so do contact me if you're interested. 
5. Other therapies 
Acupuncture has been shown to be useful in some cases, as have essential oils, (always use with care in animals), Bach Flower and Australian Bush essences. 
6. Conventional Medicines 
This may seem strange coming in an article about holistic therapies but many owners come to me with very severely affected animals on conventional medications and their aim is to stop them and treat the animal more 'naturally' This is of course my aim too but animal welfare comes first, so it is important never to just stop any conventional medicines as this could cause an acute flare up of the itching and may lead to skin damage and secondary infections. The aim would be to follow a holistic approach and introduce the therapies as described above, then hopefully reliance on conventional medicines can be reduced over time. Remember, these are deep seated, often genetic conditions that have been present usually for years. My take home message is that often we cannot cure these conditions but we can manage them better and I usually find that animals being treated holistically for itchy skin problems are happier, more relaxed and generally healthier. 
To find your nearest holistic vet contact the British Association of Homeopathic Veterinary Surgeons www.bahvs.com or the British Association of Veterinary Herbalists http://www.herbalvets.org.uk/