Fleas are a common parasite of animals and are relatively harmless but in some individuals, particularly if in large numbers, they can cause irritation and secondary problems like skin infections. 
In order to implement the best flea control protocol, it is important to understand the life cycle of the flea.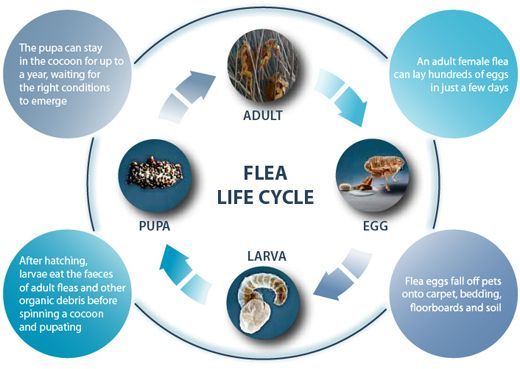 Adult fleas are the only stage that live on the animal, the rest of the stages are in the environment. There are different species of flea e.g., the dog flea, cat flea, rabbit flea but different species can live on more than one host, so it is common for a cat for example to be have bird or rabbit fleas on them if they have been hunting. The life cycle is similar for all species of flea. Animal fleas can jump onto humans and bite but they won't live on us. 
The adult flea hatches out of the pupa and is attracted to people and pets. Following the first blood meal, female fleas begin egg production within 36 to 48 hours. Egg production can continue for as long as 100 days, which means that a single flea can produce thousands of eggs! 
The main points you can hopefully see are that fleas can produce a lot of eggs in a short space of time and that 95% of the flea problem is in the environment not on your pet, so treating the environment is as important as treating the fleas on the pet. 
How can I tell if my pet has fleas? 
Is your pet scratching? 
Areas of hair loss, bald or sore patches? 
Spots or sores? 
Redness and irritation? 
Thickened skin in areas (e.g. around ear edges)? 
Can you see tiny dark specks in its fur, or small browny-black insects scurrying about? 
Do you have any unaccounted-for insect bites yourself? 
To look for fleas, either quickly turn your pet over and look on its belly, you may see them scurrying away to hide from the light, or part your pet's fur on their back just in front of the tail and look at the skin for small brown insects or 'flea dirts'. Cats may also come in with rabbit or bird fleas clustered along the edges of their ears. 
The best test however is something called 'the wet paper test'. Fleas suck blood so their faeces or 'dirts' are mostly dried blood. You may see what looks like bits of black pepper in their coat or if you comb them and then tap the comb onto a piece of moistened white paper, you'll see the little black specks spread out and leave reddish spots like drops of blood. This means fleas are present even if you can't see the insects themselves. You may also see these red spots in your pets bedding.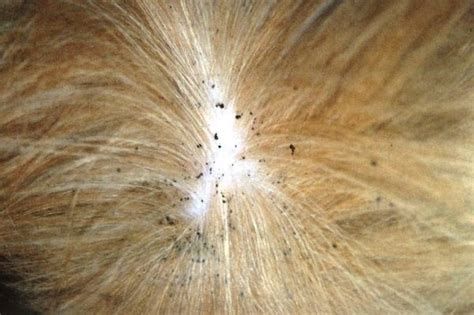 How Can I Get Rid of Fleas?
If you find fleas; treat the animal and the environment for several weeks continuing on for a while after all the fleas have gone. Always treat all the animals in the house on the same day. 
There are huge concerns about the effect of conventional flea products on the environment  and many people are turning towards 'natural' products.  
Natural Flea Products to Consider 
Billy No Mates 
Dr Mercola's Flea and Tick Defence 
Biospotix 
Cedarcide 
Apple Cider Vinegar diluted half and half with water and used as a spray 
Essential oils such as lavender and lemongrass
Treat the environment as well as your Pet  
Hoover on a daily basis  
Steam clean your carpets  
Replace carpets with wood or laminate flooring if the opportunity arises  
Wash pet bedding on a 60oC programme  
Diatomaceous earth sprinkled on the carpets will help to kill the fleas but use it sparingly.
Just because a product is 'natural' doesn't mean to say it's safe. There are many flea products based on essential oils for example that may be harmful to cats, so always follow these guidelines ; follow the manufacturer's recommendations, read the instructions carefully before using the product, never treat a cat with a product designed for use in a dog, do not apply the product more often than recommended and if treating young animals, make sure the product is safe for that age. 
If there is a severe or persistent issue, you may have to use a conventional product in the short term to control the problem and then follow on with a more natural methods of control. If you have to use a conventional product, use a 'spot on' preparation rather than tablets which have been associated with a greater number of side effects.  
Above all, don't ignore a flea problem or persist with natural products if they aren't working. Fleas can make an animal's life a misery.